Additional Resort Amenities
Enjoy Four-Star Amenities At Our Fort Myers Resort
Pink Shell Resort offers thoughtful amenities to make your resort stay feel more like home. Whether you're staying at our resort for one night or one week, we know your vacation is all about quality time with family, friends and loved ones. We're here to make your time away a breeze with amenities including an on-property shop stocked with toiletries, souvenirs and beach toys.
Your reservation includes much more than a great room or suite. Every time you stay with us, we'll make your stay a little easier by including breakfasts for all guests with a room reservation, two in-suite bottles of evian water, a Pink Shell Resort beach bag, daily beach lounge chair and umbrella rental.
Your Rate and $45 Nightly Resort Fee Includes:
Breakfast for all at Jack's
Two in-suite bottles of evian® water
Pink Shell beach bag
Daily beach lounge chair and umbrella setup
Wi-Fi
Valet parking
Complimentary kayak and stand-up paddleboard rentals
Steam room access
Unlimited local and long-distance calls
Bike Rentals
Take a break from the water and explore Estero Island on land! Bike rentals for all ages are available during your stay and are an easy way to get around town.
Beach
Wheelchair
 
Easily access Pink Shell's private beach with our specially equipped wheelchair featuring wide wheels designed to navigate the sand. Contact our front desk to learn more about reserving the beach wheelchair during your Fort Myers Beach vacation.
Resort Accessibility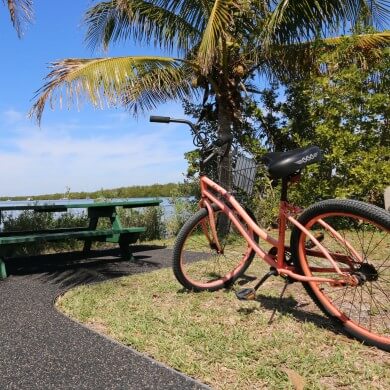 Audrey's
Gift Shop
Open Daily 11 a.m. – 7 p.m.
From snacks to souvenirs, Audrey's at Pink Shell Resort has you covered. Take advantage of our selection of beverages, grab the perfect cover up or pick up fun beach toys for the kids all without having to leave our resort in Fort Myers Beach. Discover a host of convenient products, including:
Beer, liquor and wine
Pharmacy products
For the sun products
Beach toys
Starbucks coffee
Clothing & jewelry
Pink Shell Merchandise
Souvenirs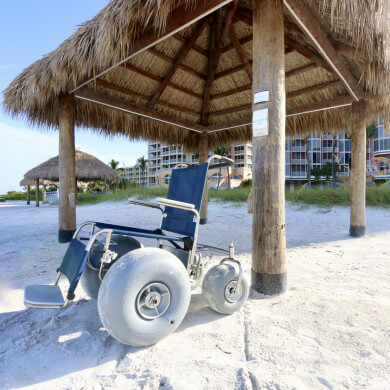 Shipping & Receiving
Shipping to the Resort
Please ship your items to arrive no earlier than two (2) days before your arrival to the resort or start of your conference/event, whichever is occurs first.  Due to limited storage space, the resort reserves the right to refuse packages received prior to this date for any guest or attendee.  Any package received more than two (2) days before arrival or start of conference/event will be charged a daily storage fee equal to the associated weighted receiving fees below.
To help ensure that your package arrives properly, please ship all items to the following address:
Pink Shell Beach Resort & Marina
Attn:  Guest [insert name of the person claiming package]
[Insert Group Name or Guest Room #]
275 Estero Blvd.
Fort Myers Beach, FL  33931
All packages received at the resort are subject to receiving and handling charges based upon weight as listed here:
Less than 5 pounds:  $5
6-20 pounds:              $10
21-50 pounds:            $15
>50 pounds:               $25
Pallets (any size):      $150
All charges are subject to 6.75% Sales Tax.  Charges may be applied to your guest room or group folio.
Package Delivery at the Resort
All packages received will be stored in the receiving area of the resort until they are requested by the guest/exhibitor. Boxes or crates will not be delivered without the planner and/or vendor present to sign for the packages.  If no one is present to sign, boxes will be returned to the receiving area.
Boxes or crates that need to be saved for use after the meeting must be discussed with the resort Event Manager prior to arrival to review space.
Tracking number should be provided for requested packages to expedite the process.
When you are Finished with Packages
Any pre-labeled packages for shipping may be left at your exhibit area and will be picked up and delivered to the resort loading dock.
All outgoing shipments without shipping labels should be directed to the resort Business Center, which is staffed until 4:00pm daily.
General Policies
The resort address MAY NOT be used on outbound packages.  The sender must use their home/business address as the originating location when shipping from the resort.
Packages should be received during regular business hours:  Monday-Friday, 8:00am-5:30pm.  There are no available forklifts on the property but rental arrangements can be made.  All trucks must have a lift gate to load in and out of the loading dock.
Vendors not covered by the group master account are responsible for their shipping charges and must have a credit card on file for payment.
Shipping and Receiving Hours
Monday – Friday:  8:00am to 5:30pm, excluding holidays.
For outbound packages and express letter, the cut-off time for shipping is 3:00pm
Saturday:  8:00am to 1:00pm, excluding holidays.
Sunday:  CLOSED
Grocery and Delivery Services
These services include but are not limited to Instacart, Doordash and Uber Eats.
Guest must be present to accept the delivery, and orders may not be delivered to the guest room prior to the guest's arrival.
Front desk will not accept the deliveries on behalf of a guest.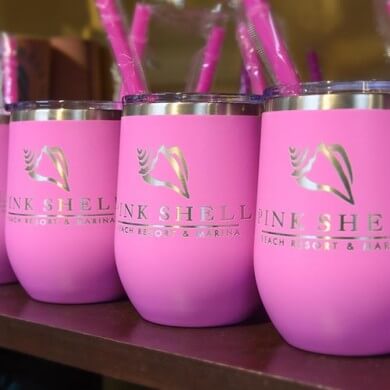 #pinkshellresort
EXPERIENCE