Dolphin Adventure Tours
Dolphin Tours on Fort Myers Beach
Share the pristine beauty of the islands with us during a guided dolphin tour on Fort Myers Beach. Pink Shell's Dolphin Adventure Tours are just one way to catch an up-close glimpse of the diverse wildlife native to Estero Bay! Our 90-minute guided Dolphin Adventure Tour on Fort Myers Beach allows guests to experience riding a powerful WaveRunner while enjoying the scenic waters of the Gulf of Mexico and Estero Bay. Dolphin tours are an unforgettable experience to view the dolphins, manatees and birds in their natural environment.
Skilled guides teach participants how to ride a WaveRunner during this family-friendly adventure. Our guides will also review all safety details and explain wildlife viewing laws. Novice guests and first-timers welcome!
Contact Information
Phone: 239-765-4386
Reservations required.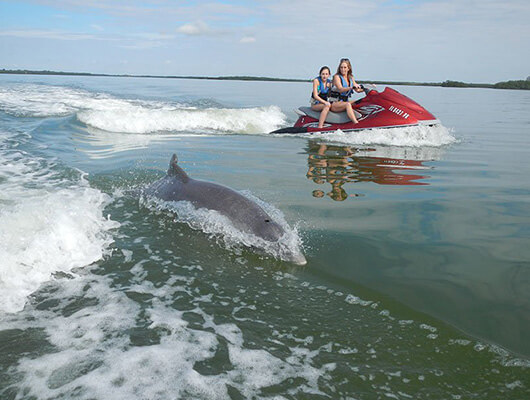 Dolphin Tour Package
Ready to get out on the water and search for wildlife? Book our Dolphin Adventure Package and save on your Fort Myers Beach experience. Rates include our Dolphin Adventure Tour for two guests.
Terms & Conditions: Offer valid through Dec. 31, 2021. Two guests will experience one WaveRunner together and not one each. All drivers must be 16 years of age with a drivers license or valid photo ID. Anyone born after Jan. 1, 1988 must also have a NASBLA approved Safe Boating License in order to drive a WaveRunner. We offer a temporary safe boating license at our beach location for $3. All reservations are subject to a $35.00 cancellation fee when canceled more than 7 days prior to arrival. Subject to applicable taxes and resort availability. Cannot be combined with any other offer or discount. Not valid for groups or other contracted rates.
#pinkshellresort
EXPERIENCE