Top Things to Do
in Fort Myers Beach
*PLEASE NOTE: Due to Hurricane Ian, activities, events, restaurants and stores in the Fort Myers Beach region may be closed, or temporarily unavailable. To learn about which local businesses are open during this time of rebuilding, please review this resource from the Fort Myers Beach Chamber of Commerce.
Ready for sun, sand and so much more? While many visit Fort Myers Beach for its sparkling, white-sand beaches, there are plenty of notable attractions to explore while on a South Florida vacation. Located on the seven-mile-long Estero Island, Fort Myers Beach is home to stunning sunsets, rich ecosystems and a bustling downtown for shopping and dining. Start planning your next beach getaway and discover some of the top things to do in Fort Myers Beach.
Sanibel Island
Soak up the sun on Sanibel Island. With easy access to wondrous natural beauty, family-friendly fun and great recreation, Sanibel Island is just a short twenty-minute drive across San Carlos Bay from Pink Shell Resort. Explore local wildlife, take in a stunning sunset cruise or stroll the island's white, shell-laden beaches in search of unique treasures. Uncover plenty of exciting things to do in Sanibel Island with these nearby attractions:
Bailey-Matthews Shell Museum
Barrier Island Group for the Arts
Sanibel Historical Village & Museum
Sanibel Captiva Conservation Foundation
Clinic for Rehabilitation for Wildlife (C.R.O.W.)
J.N. "Ding" Darling National Wildlife Refuge
Chapel by the Sea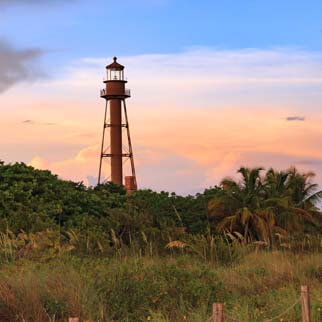 Times Square
Centrally located on Estero Island and steps away from the Fort Myers Beach Fishing Pier, Times Square is a must-visit when in the area. The vibrant shopping and dining district is home to unique stores, local restaurants and crowd-pleasing street performers. Head downtown for dinner after a day lounging on Pink Shell's private beach or exploring the back bay on a kayak tour. Our oceanfront resort is less than a mile from Times Square in Fort Myers Beach and easily accessible via car, foot, bike or trolley.
Lovers Key
Make your way to the other end of Estero Island for a visit to Lovers Key State Park, known for its two miles of pristine sandy shoreline, five miles of walking and cycling trails and abundant wildlife. Whether you're on a family-friendly vacation or romantic couple's getaway, the destination is great for collecting shells, swimming, picnicking, kayaking, birding and watching the sunset with loved ones. From Pink Shell, guests can take the trolley or drive to Lovers Key State Park. Mound House
Learn a little history on your next trip to the beach. Once inhabited by the Calusa Native American tribe, Estero Island and Southwest Florida are rich in ancient cultures dating back to 12000 BC. Just a 10-minute drive from the Pink Shell, Mound House showcases the Calusa culture and those who settled afterward through photos, artifacts and interactive exhibits. Visit the museum in Fort Myers Beach and enjoy the views from the Observation Pier, stroll through the historic gardens and house, or sign up for a guided kayak tour.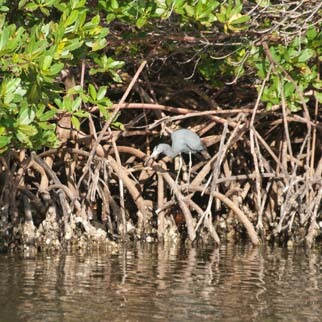 Fort Myers Beach Festivals
Annual Events & Festivals in Fort Myers Beach
For more things to do in Fort Myers Beach and the surrounding area, check out one of the annual festivals taking place throughout the seasons. From the impressive sand sculpting competition to festive New Year's Eve celebrations, there's always something fun—or tasty—going on in Fort Myers Beach. Check out a few of our favorite festivals below or see what's happening at Pink Shell!
ArtFest Fort Myers | February
Fort Myers Beach Shrimp Festival | March
Taste of the Beach | May
American Sand Sculpting Competition | November/December
Fort Myers Beach Christmas Boat Parade | December
Birthday of Fort Myers Beach | December
Explore more Fort Myers Beach Events