Fort Myers Boat Rentals & Sailing School
Set Sail in Paradise
Set sail and find a new view of paradise on your next beach vacation in Fort Myers. Take in stunning sunsets, the fresh Gulf breeze and see if you can get a glimpse of the dolphins when you take advantage of our Fort Myers Beach boat rentals! Whether you're with friends, family or even coworkers, private pontoon excursions are a must-do for any type of getaway. If you're ready to learn something new, sign up for sailing lessons with the Offshore Sailing School. Pink Shell's full-service marina offers a variety of sailboat and pontoon rentals so you can explore the bay or the Gulf while creating sun-soaked memories.
Lessons + Rentals
Sailing
School
Take home more than souvenirs. Take home a lifestyle skill. Offering sailing lessons by America's #1 Sailing School®, Offshore Sailing School is right on site at Pink Shell Beach Resort & Marina. Their patient and professional instructors make learning, improving or mastering the art of sailing a breeze. With Colgate 26 sport boats, big cruising catamarans and monohull yachts, our Fort Myers Beach resort will have you cruising the sea in style. Go from beginner to ready to cruise in seven exciting days, or test the waters with a quick two-hour lesson or two and five-day Learn to Sail certification courses.
Bring your family and friends, come solo or consider a team building or group activity. Discover a variety of sailing opportunities and certification courses for all skill sets and time frames:
Learn to Sail
Fast Track to Cruising®
Bareboat Charter Cruising
Live Aboard Cruising
Family 'Tweens & Teens Learn Free
Private Family and Couples Courses
Corporate Sail-Race Challenge®
Team-building and Group Regattas
Sail and Stay Getaways
Looking for a true Florida sailing vacation? In addition to individual courses, Offshore Sailing School has partnered with Pink Shell to offer multi-day Fort Myers Beach vacation packages designed to maximize learning and time on the water. Perfect for vacationing couples, families or even bachelor parties, these special deals are the perfect way to spend time together learning a new skill at an incredible value in villas in Fort Myers.
Learn more by checking out Offshore Sailing School, or give them a call at 800-221-4326.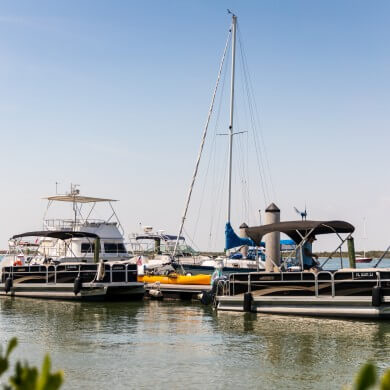 Sailboat
Rentals
Hobie 14′ or Hobie 16′ sailboats are available for rent on an hourly basis. Multiple hours can be purchased at a discounted price. Sailing experience is required.
Reservations recommended – call 239-765-4386.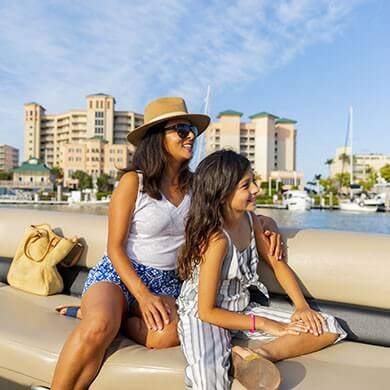 Pontoon
Rentals
Offering 8- to 10-passenger 22-foot pontoon boats and center console, on an hourly basis.
Reservations recommended – call 239-463-8661.
#pinkshellresort
EXPERIENCE