Frequently Asked Questions
Learn more about Pink Shell and prepare for the ultimate Fort Myers Beach vacation by having all of your questions answered ahead of time.
Hotel Policies
What new policies and safety measurements have you put in place in response to COVID-19?
Our team continues to monitor the situation around COVID-19, keeping the safety of guests and team members a top priority. Please visit our COVID-19 Updates page to learn about hotel safety measures and stay up to date on the latest changes. Pink Shell was recently awarded the Florida Restaurant & Lodging Seal of Commitment—a promise that our establishment achieved enhanced safety and sanitation standards designated by FRLA to ensure the safety of guests and employees.
What time can I check-in to the resort?
Our check-in time is 4 p.m. If your room is ready prior to that, we will be pleased to check you in. If not, you are free to pre-register at the front desk, store your belongings and begin to enjoy the resort from the moment you arrive. Check-out time is 11 a.m.
Are pets permitted at the resort?
Pets are not permitted at Pink Shell Beach Resort & Marina. If you prefer to travel with your pet, we recommend that you arrange boarding at the following local kennels:
Tails-A- Waggin Animal Hospital, 11960 Kelly Road, Fort Myers, FL 33908; (239) 482-6897
Coral Veterinary Clinic, 9540 Cypress Lake Drive, Fort Myers, FL 33919; (239) 481-4746
What is the dress code in your restaurant?
Resort casual/resort wear is allowed at our restaurants.
Can friends and family visit me during my stay?
We reserve our amenities for the use of our registered guests and owners. Non-registered guests may not be permitted based on expected occupancy. Restaurant, spa, and marina are open to the public based on daily availability. We recommend calling in advance if you would like to enjoy these amenities and services.
Is there a daily resort fee?
Yes. The daily resort fee added to every room is $45 nightly and includes WiFi, valet parking, kayak and paddle board rental, use of our steam room and unlimited local and long-distance phone calls.
Package Delivery Policies & Fees
All requirements for sending packages to and receiving packages at our resort can be found on THIS PAGE.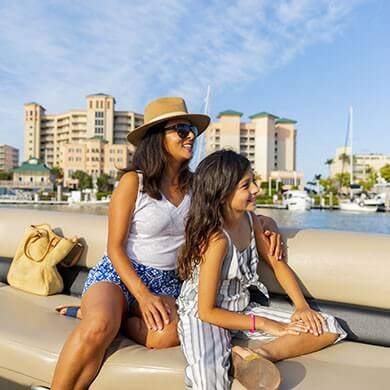 Amenities
Is there a charge for Wi-Fi?
No. Wi-Fi service is free at Pink Shell Beach Resort & Marina and available in all villas and at facilities on the resort property.
Where is the nearest grocery store?
Publix is approximately 3.5 miles south of Pink Shell on Estero Boulevard.
Are pool/beach towels provided?
Yes, we provide pool towels at no cost.
Do I need advance reservations for services at Aquagene Spa?
We recommend that you reserve your services at Aquagene Spa at least one week prior to your arrival. Call (888) 222-7465.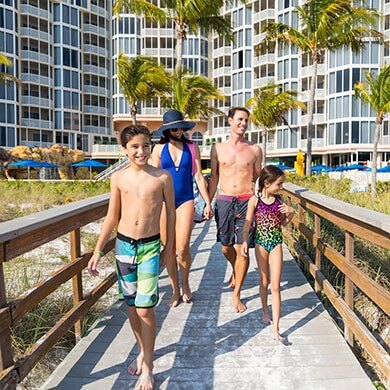 Transportation
Do I need to rent a car?
Pink Shell does not provide airport transportation, so hiring a taxi or renting a car are the two best options to get to the resort. The one-way taxi fare is approximately $60. While we are within easy walking distance to downtown Fort Myers Beach, if your stay with us is longer than a couple of days, you may wish to consider a rental car, as there are attractions in the area you may wish to visit.
Taxi services:
Rental cars:
You can use our preferred partner Enterprise Rent-a-Car
Most major rental car companies are represented at Southwest International Airport (RSW)
Fort Myers Beach Trolley Service:
There is a county trolley stop on property, providing transportation to the popular Times Square and other areas of Fort Myers Beach and local communities. Passes are available for purchase with the trolley driver.
Is parking available at the resort?
Yes, we provide one complimentary parking space for guests staying in studio and one-bedroom accommodations and two spaces for guests staying in two-bedroom accommodations.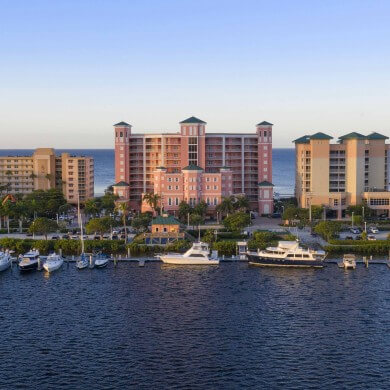 Fort Myers Beach Attractions
What attractions are there to see in the area?
There are a number of historical and interesting things to do in Fort Myers and Fort Myers Beach, just a short bike ride or trolley away.
A state park located on the Northern tip of Fort Myers Beach, Bowditch Point Park is a short walk from our Fort Myers Beach resort. With walking trails through nature preserves, it is an ideal area to spot local wildlife such as gopher tortoises. The park also offers picnic tables and grills that are available October through May.
Located just 0.75 miles south of our Fort Myers resort, Times Square is the "hub" of Fort Myers Beach, with outdoor shops, restaurants, the Fort Myers Beach Pier and nightly entertainment.
Can you recommend nearby golf courses?
Shell Point Golf Club, On Par Boulevard, Fort Myers, FL 33908; (239) 433-9790
Dunes Golf Club, 949 Sand Castle Road, Sanibel, FL 33957; (239) 472-2535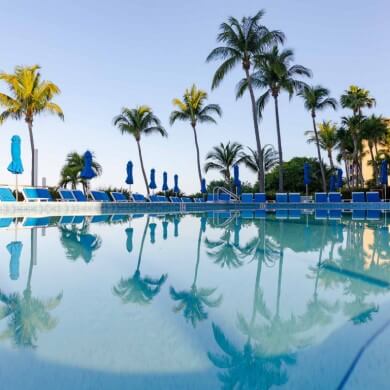 Recycling
What do we recycle?
As the First Green Lodging Fort Myers Beach hotel, we are proud to recycle. Our in-room recycling program includes paper, newspapers, magazines, junk mail, paper bags, cardboard boxes (cereal, shoe, gift), aluminum cans, plastic and glass containers.
Throughout the property, we also have bins for all recyclable items.
How do we recycle?
It is really pretty easy! In your villa is a blue plastic bin where all recyclables can be placed. Your room attendant will take it from there!