Top Reasons to Spend Fall in Fort Myers Beach
Whether you're planning a family-friendly vacation in Fort Myers, a romantic Florida getaway for two, or an Oktoberfest to remember, a fall getaway at Pink Shell Resort is the perfect way to experience the Sunshine State. Here are a few reasons to spend your fall with us in Fort Myers Beach.
Southwest Florida Without the Crowds
Warm enough to enjoy the beach but cool enough to keep the crowds away? No, you're not dreaming: Fall truly is the ideal time of the year for anyone who prefers more room to spread out on Fort Myers Beach.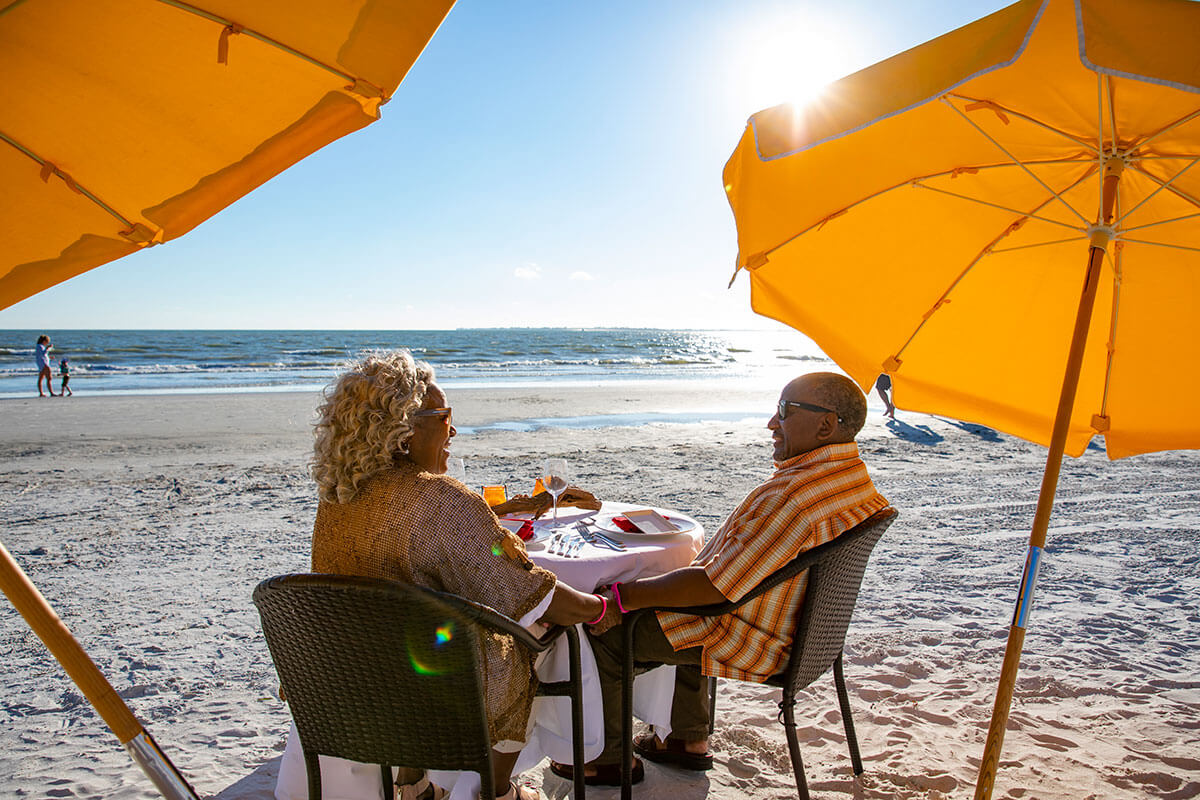 Access to Signature Experiences
With fewer visitors than our busiest months, that relaxed fall vibe also means you'll face less competition for our Pink Shell Resort signature experiences.
Dolphin Adventure Tours
Catch an up-close look at the dolphins, manatees, and birds that call Estero Bay home with our 90-minute guided Dolphin Adventure Tour on Fort Myers Beach. You'll learn to ride a WaveRunner and get a front-row seat to the natural beauty and wildlife surrounding Pink Shell Resort.
Candlelit Dinner on the Beach
If you're seeking a romantic seaside meal, Pink Shell is the only place for true oceanfront dining on Fort Myers Beach. This intimate Fort Myers Beach dining experience features a four-course meal prepared by our award-winning chef and personalized white-linen service. Competition for this exclusive dining experience can be fierce in the busier months, but reservations are relatively easy to acquire in the fall.
Private Chickee Hut Rentals
Take a break from the sun and relax under one of our private Chickee Huts on the beach. Each rental includes beach chairs, towels, and plenty of space to spread out in the shade. Attentive beach servers will take care of you throughout the day, so the only thing you'll need to consider is which cocktail to order next!
Raise a Glass for Fall Festivals & Events
When it comes to fall festivities, there are plenty of ways to embrace the season at Pink Shell.
Island Hopper Songwriter Fest
The Island Hopper Songwriter Fest returns to Pink Shell this September! Guests with a room reservation get complimentary entry to the festival's closing event, the Pink Shell Pool Party featuring Jimmie Allen on Sept. 26.
Roar Offshore Powerboat Races
Head to Fort Myers Beach Oct. 7-9 for the return of the Roar Offshore Powerboat Race. Don't miss this action-packed event where speed meets style on the open water.
Cape Coral Oktoberfest
Spanning six days, two weekends, three music stages, and two dance floors, Cape Coral Oktoberfest is the largest Oktoberfest in Florida. Featuring an extensive menu of Schnitzel, bratwurst, potato pancakes, and all manner of imported German beers, the only thing missing from this celebration is you.
Exclusive Fall Spa Specials
Our full-service, 6,000-square-foot Aquagene Spa has everything you need for a wellness getaway, including exclusive fall specials like a stress-relieving Mimosa Massage with Body Scrub to make a revitalizing escape that much more enticing.
Book Your Fall Stay at Pink Shell Resort
See for yourself why Pink Shell Resort is one of the best places for your fall Florida getaway and book your stay today with our Fort Myers Beach fall special offer. Every stay includes breakfast at Jack's, plus beach views are guaranteed if you book direct!
#pinkshellresort
EXPERIENCE