Shore Explorer Program
Get up close with the fascinating flora and fauna of Fort Myers Beach with the new Shore Explorer Program at Pink Shell. Learn about the industrious Sandpiper and how it builds its nest, discover the various natural habitats nestled throughout the Back Bay, and explore the various species of native plants, from the purple sea grapes to the tasty coco plums. From Estero Bay to the Pool Deck, and from Pink Shell Marina to the Butterfly Garden, get ready to embark on an exciting journey of discovery.
How It Works:
With the Shore Explorer Map as your guide, begin your nature discovery on the shores of Estero Bay at stop #1 - Ospreys. 
Become the ultimate explorer by following the numbered signs all the way to stop #13 - Wingspan. 
At each stop, take in all of the interesting facts and enjoy the interactive games and activities outlined on the signs. 
After completing all 13 stops, be sure to share all of the interesting things you've learned with your friends and family!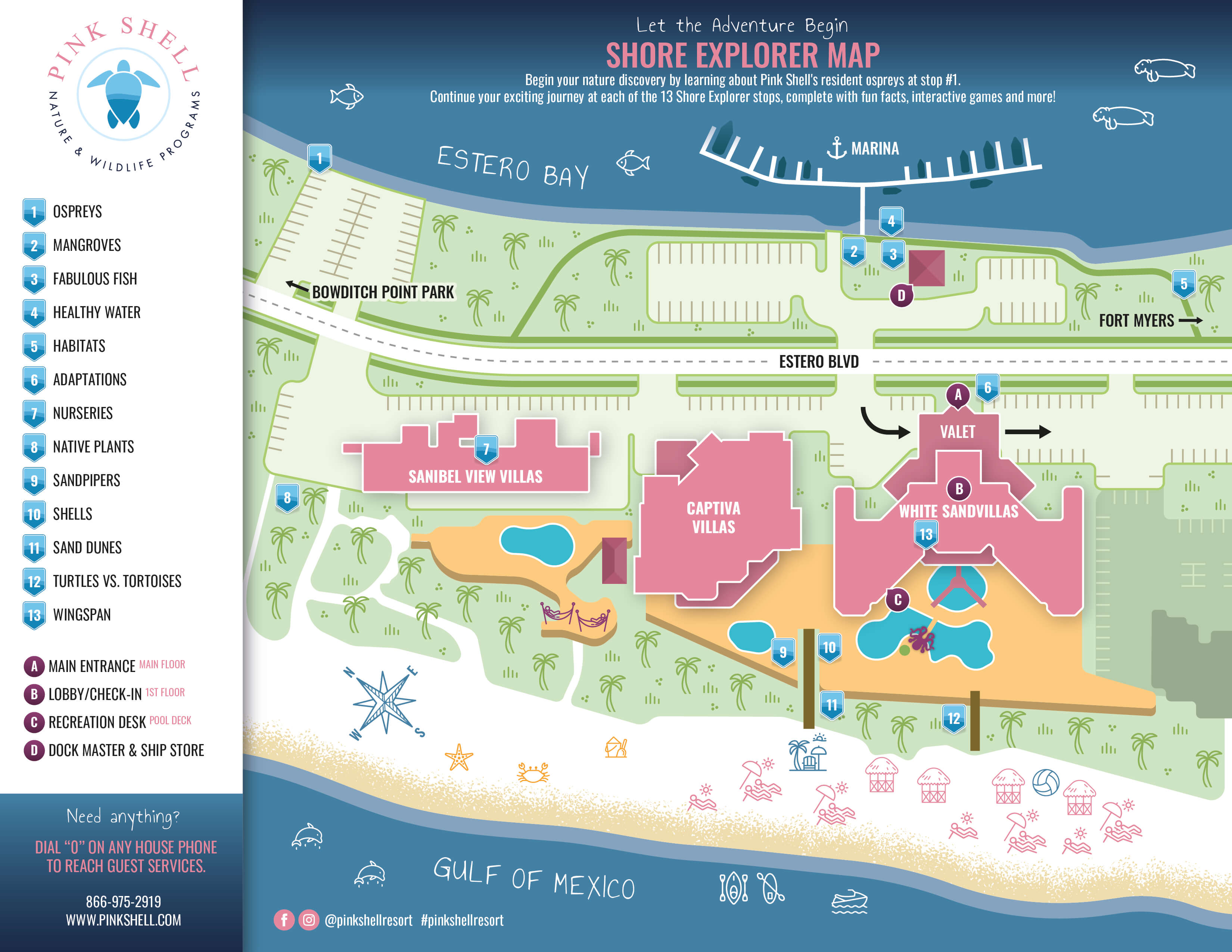 Know Before You Go
Before embarking on the Shore Explorer Program, there are a few things you need to know: 
The Shore Explorer Program is free and for people of all ages! 
Explore at your own pace, as the program is self-guided. 
Don't be afraid to have fun and take part in the interactive activities! Prompts are on each sign.
There's no shortage of ways to experience Fort Myers Beach, both by land and water. Explore more Nature & Wildlife Activities in Fort Myers Beach like Dolphin Adventure Tours or the Back Bay Kayak Tour. Or, check out local festivals, attractions and other Top Things to Do in Fort Myers Beach.
#pinkshellresort
EXPERIENCE